---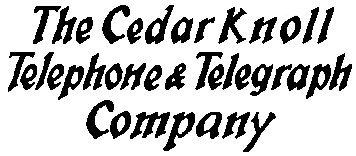 A Reconstruction of a Typical Pennsylvania Railroad Wire Chief's Office along with other examples of telephone technology.
---
See what the Standard Railroad of the World did for a telephone and telegraph plant.
A Tribute to the PRR Telephone and Telegraph Department
---
Would you believe that there were two operating telephone companies in Philadelphia, Pennsylvania until September 1945? Find out more at:

A TRIBUTE TO THE KEYSTONE TELEPHONE COMPANY
---
If you like what you saw here,
be sure to visit these other sites.
---
If you're interested in such stuff,
be sure to check out these organizations:

Telephone Collectors International at:
www.telephonecollectors.org

The Telecommunications Heritage Group at:
www.thg.org.uk/


---
Refer any questions to

Revised 08/02/17